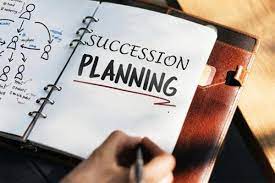 What is succession planning and why its important?
So Let's start with what Succession planning refers
Succession planning is a method of transferring leadership duties, such as firm ownership, to an employee or group of employees. It's also known as "replacement planning," because it guarantees that firms keep running efficiently after key employees leave for new opportunities, retire, or pass away.
Succession planning can also serve as a liquidity event, allowing rising staff to take over ownership of a business.
Here's a worst-case scenario for a business owner: losing his or her partner!
Unfortunately, this does happen and it can be tough to get through; the business could crumble without the help of someone who knew what to do in each situation.
But imagine if your partner was suddenly gone, like dying or getting hit by a car – would your partner's family get angry because you aren't worth as much?
You'd better think about that before hiring someone to work for you; that person may end up wanting to take everything you've spent years growing away from you!
So here's something useful – how to protect yourself and your work with an ironclad legal partnership agreement.
Will the family of the deceased or disabled partner want cash representing their share of the business and will they want to have a legal battle and wait for years to get it?
Will the remaining business owners want exclusive ownership and control of the business?
Will they suddenly be in business with the deceased owner's spouse or children?
Is that a desirable situation?
Most businesses do not have the cash reserves to payout the family of a deceased or disabled partner and this creates enormous problems at an already difficult time.
Generally, each partner should have insurance cover to the value of their share in the business.
If a partner subsequently dies, or is disabled, or suffers a serious condition the proceeds of the claim are paid to the policy owner (or their estate/family) in exchange for their share in the business which transfers to the remaining owners.
I hope you found this article on What is succession planning and why its important? helpful, and do share your thoughts in the comments section below.
If you are looking for answers from a Best Financial Planner professional, help is a click away at www.AssuredGain.com
YOU CAN ALSO FOLLOW US ON: FACEBOOK, TWITTER, INSTAGRAM, QUORA, WHATSAPP, Linkedin